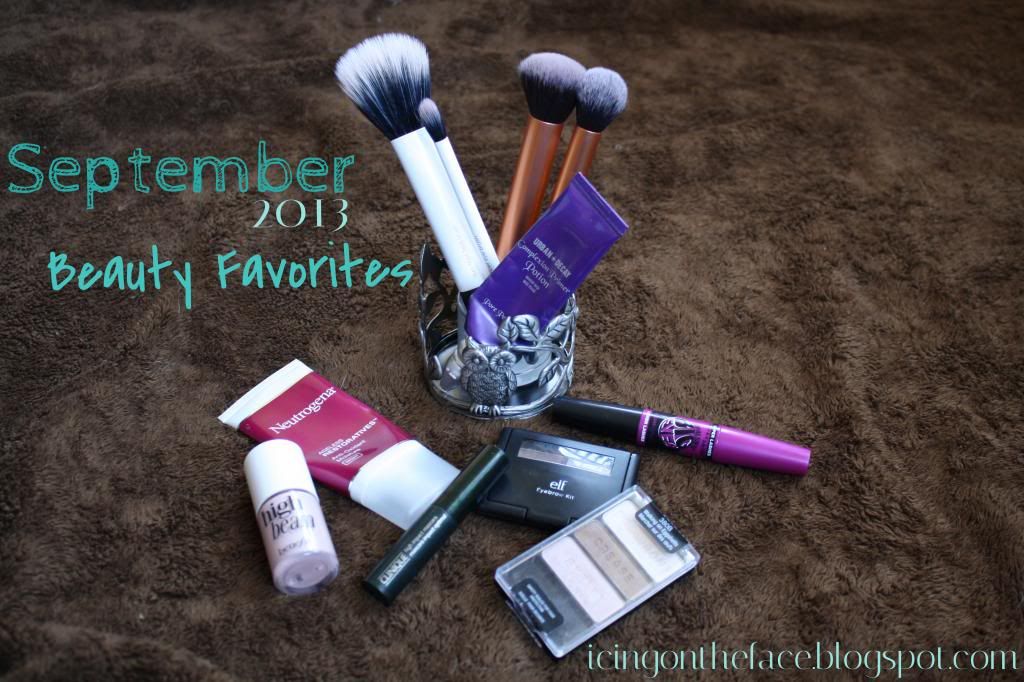 1. Urban Decay Complexion Primer Potion in Pore Perfect
A little goes a long way with this primer; I've had it forever and am only now getting down to the end. It's a very thick primer but it fills in all of your pores, creating a smooth canvas for your makeup while controlling oil. I pulled it out of my collection recently and have been loving it once again.
2. Neutrogena Ageless Restoratives Anti-Oxidant Night Moisture
Over the last couple years I've found anti-oxidants are my skin's very best friend and this moisturizer is great for adding in that little boost. Because it is a night cream, it is on the thicker side. It makes my skin feel plump, very smooth, and also helps get rid of acne and scarring.
3. Benefit High Beam
This is a well-raved about highlighter; I'm sure you get it by now. Revisiting my love for it!
4. e.l.f. Eyebrow Kit
This has been great for a strong brow that still looks natural; I've been using it with my favorite angled eyeliner brush from e.l.f. that I featured in my last favorites. I will say that I haven't been a fan of the wax the longer the product has had the chance to dry out.
5. Real Techniques Buffing Brush
If you didn't catch my review on the Core Collection from Real Techniques, do it! The buffing brush is so dense it makes sure my make up is always blended flawlessly.
6. Real Techniques Contour Brush
I've been using this brush everyday for a natural contour; in love with it. Also in my Core Collection Review.
7. Real Techniques Duo-Fiber Face Brush
If you saw my Shopping the Stash post, then you know I've started using the L'oreal Hydra Perfecting Loose Powder. I'm sure we all know how messy loose powder can be-- probably the only reason I don't use it all the time! This is basically a duo-fiber powder brush and it makes messy loose powders simple!
8. Real Techniques Duo-Fiber Eye Brush
Another brush from the Real Techniques Duo Fiber Collection (which I believe is limited edition). I thought I was really good at getting my eyeshadows perfectly blended, but this brush cuts the necessary effort on my end in half! Expect a review of the Duo Fiber Collection soon!
9. Clinique High Impact Mascara in Black
This mascara is great at building volume; it's a drier, thick consistency. I think my favorite thing about it is that the non-waterproof version comes off insanely easily, but I don't have flaking or transferring throughout the day.
10. Maybelline The Falsies Big Eyes Volum'Express
This is the new Falsies mascara that has a top lash and bottom lash wand on each end of the tube. I'll admit, I haven't even tried the top lash end yet, but the bottom lash wand and formula is so awesome I'd purchase it just for that! I don't like putting mascara on my bottom lashes because it's easy to get everywhere, brushes don't fit in that area, and it always ends up clumpy! Clinique has their bottom lash mascara that everyone raves about, but I hate repurchasing something that's a little pricey for my teeny tiny bottom lashes-- this solves that! Perfect formula that is entirely non-clumpy with a bitty baby brush that fits in there perfectly.
11. Wet n Wild Color Icon Eye Shadow Trio in Walking on Eggshells
Love this little trio! Wet n Wild has great eye shadows for an incredible price, I've especially been loving the lighter colors in this trio for an all over lid color and then going in with a medium/deep matte brown in the crease. Simple, quick, and neutral.
Hope you all are enjoying the changing weather! It's back and forth here - slightly chilly, and then back to hot. Can't wait for crisp autumn to really hit--but I've been saying that for the past month, haven't I? Guess it's another favorite!