The Brand:
Alright, those of you who are familiar with the brand
e.l.f.
(Eyes Lips Face Cosmetics) know that it is a
very
affordable makeup brand that you can find online and in most Target stores. Most of their products are $1.00 or $3.00 a pop. What I love about this brand is that it was started by beauty lovers who wanted to make beauty products available and accessible to everyone. E.l.f. promotes that everyone deserves to feel beautiful and healthy; and they certainly make it easy to do so! Some people will bash this brand because not
EVERY
SINGLE
ONE
of their products is as good as Dior or Lancome - but hey, you paid
$1.00
for it! A lot of their products
resemble higher end brands
in functionality and packaging - some call this copycatting, but I call it great marketing and bringing the feeling of luxury to the drugstore. I respect and love this brand for what it is. The haters just need to actually try it!
I'm sure you e.l.f. fans also know that most of their products are hit or miss. When I find a product from them that I like: 1. I
LOVE
it! 2. It is beyond
affordable
, and 3. It is usually something I reach for
daily
.
E.l.f. has tons and tons of products; a lot of them are sold in Target, but if you go to their website they carry a
KAJILLION
more.
How Do You Sift Through ALL Those Products:
Well, if you're me - subscribe to their mailing list, wait until you get an email describing "SITEWIDE SALE 50% OFF" (they are always having amazing sales if you wait for the right time), go and grab a couple colors of everything that looks good, repeat a couple times a year, test everything out, and reorder more of the good stuff! Eventually you're going to have some really affordable staples in your makeup collection.
OR - you could just sit back, read my blog, and let me do it for you!
My Best Picks:
(swatches at bottom)
This was one of my first loves from e.l.f. I tend to choose this over my higher-end brand primers. At 6 bucks it is one of e.l.f.'s more expensive products, but that is way cheaper than, say--THIRTY DOLLARS! It gives me an even and very smooth texture to my skin while also helping to control shine. (Unfortunately, I'm an oily-skinned girl. Very.) If you don't like primers that feel 'silicone-y', you won't like this one. I, on the other hand love primers like that.
(They now also carry this primer in Tone Adjusting Green, Brightening Lavender, and Radiant Glow- very excited to try some of those out!)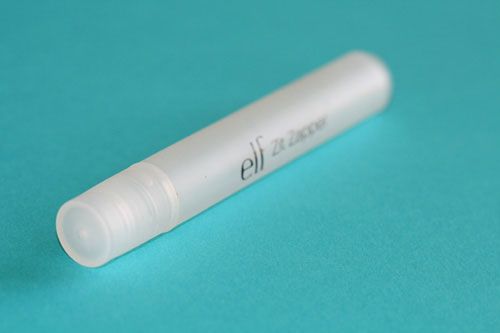 (Contains Salicylic Acid, Tea Tree Oil, Witch Hazel, and Camphor.) This product is new to me - I always passed it up because I thought "
there's no way this ONE DOLLA product could compete with my prescription-strength, amazing acne medication
". But after continuing to struggle with acne I decided why the heck not! Come to find out my skin didn't want all the oil-punching,
life-killing
, and moisture-sucking strength that was in my "holy grail acne medication" - my acne just wanted a little treatment and a little soothing. This does just that: clears acne spots without drying or irritating AT ALL. Gentle and effective.
(Sugar, Vitamin E, Avocado Oil, Grape Seed Oil, Jojoba Oil, Shea Butter). We've all heard about DIY lip scrubs and probably seen the high-end versions of
sugar scrubs
(ingredients cost about, maybe-- a pretty lil' penny for these companies). Here's why I like this one: it's in a creamy stick. This makes it so quick and easy to use. Any homemade lip scrubs I have made end up separating in the container I put them in. So I either have to stir it up with SOMETHING (hmm-quick! What in my bathroom do I want to have goop on it? Uhh...) or make it fresh every time. I don't have to worry about that with this-- or even get the product on my fingers! It's in a tube. And it's moisturizing. And smells like freakin' delicious
cupcakes
. There ya go. You're welcome.
4. E.L.F. Studio Blush in Mellow Mauve, $3.00
The studio blushes seem to be one of e.l.f.'s most popular items. People are inclined to try them, and everyone likes them. (The packaging resembles NARS blushes- and
I
actually enjoy this! They get displayed right next to my NARS!) I have quite a few of them; all pigmented well. Great for an everyday blush.
This is a product I thought I didn't like at first-- until I found a better way to use it. The contour and blush shade are very pigmented and kinda seem sticky. Now I use it with a small, concentrated stipple brush and barely dip it in the product.
Blend
,
Blend
,
Blend
! Then I powder over it to set my contour and blush and it stays all day and looks natural through the powder! This has become an everyday essential for me as I've been choosing it over Hoola or any other bronzer!
(Vitamin C and K) I find this to work just as well as any of the
high-end
undereye setting powders I've tested out. It sets my concealer, brightens my undereye area and also prevents any eye makeup from travelin' down my face! (Oily skin, remember?)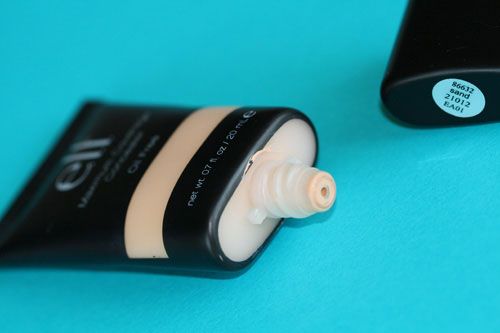 (Oil Free) I don't typically fawn over e.l.f. concealers - mostly because I already have my favies from elsewhere. But this is one I actually use very often--not for what you think! (Or what I thought I would be using it for when I bought it.) I use it as a
tinted moisturizer
. I can use a tiny, tiny amount and because it is a max coverage concealer it has great pigmentation and covers my whole face if i blend it out well with a damp beautyblender or even your fav foundation brush, wet. This concealer isn't a dry formula so it looks natural and feels like you're wearing nothing. You're welcome again.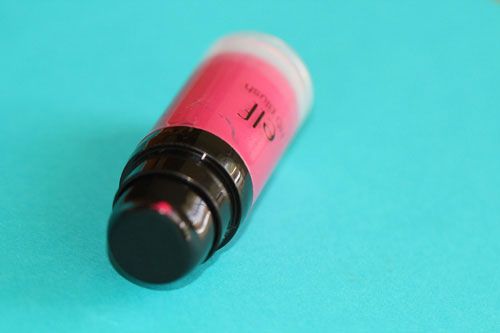 I have a little rant here. Prepare yourself. I have been
DYING
to get my hands on the other shades of this product.
EVERY
TIME
I shop online they are
OUT OF STOCK
. Fabulous. And of course Target doesn't carry it! --yet. End of rant. I don't rant too bad, do I? This is
crazy
super
hyper
mega
intensely pigmented; doesn't feel cakey or thick like a cream blush and has great staying power. Almost like a stain. Feels like nothing. Perfect for summer. (
MAKE MORE ELF
! I'm missing out!)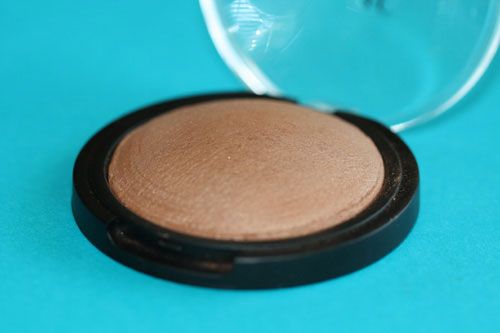 This is a good general summer bronzer. This color is a little more natural than most of their other bronzers. It has a small bit of sheen to it, but it works for summer. (And I'm not someone who usually enjoys 'sheen' in anything but highlighters, eyeshadow, and lipgloss.) Adds a little glowing color.