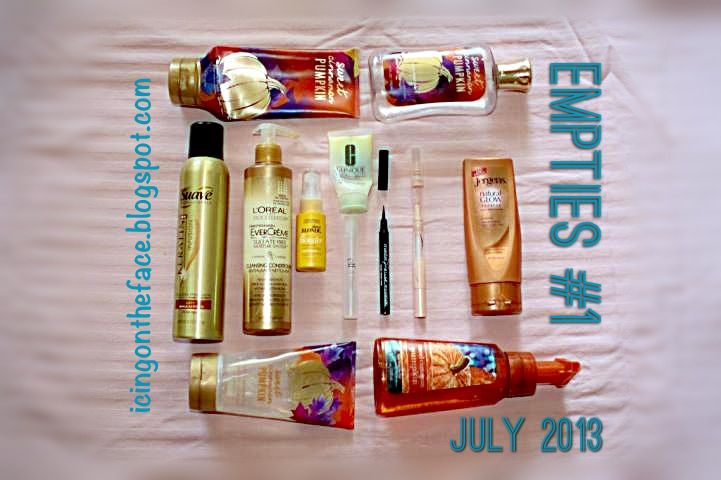 My first
Empties
post! If you don't know what an empties post is, I go over all the products I've
completely used up
recently and tell you what I think about them! This is beneficial because I've obviously used the product enough to form a
REAL
opinion. I've made 3 distinctions between products and put them underneath each product (this way it's kind of like a summary or if I get too wordy in my description you can quickly see what's really going on).
1. Sweet Cinnamon Pumpkin scent from Bath and Body works
I STOCKED up on this scent last fall because I love it so much. Then, my friends and family bought me even more for my birthday. Now, I find myself still smelling like pumpkin in the summer!
Anti-Bacterial Gentle Foaming Hand Soap : I'm sure we've all used this somewhere, great hand soap in my favorite scent.
Shea Enriched Shower Gel : I love their shower gels; packed with smelly-goodness.
Triple Moisture Body Cream : you already know, the best all around lotion.
Creamy Body Scrub : THIS-- this is the gem. I had never used Bath and Body Works' Scrubs before, but I fell in love in the fall. Its really thick and gritty so it exfoliates wonderfully, but it's so creamy it leaves your skin moisturized at the same time. I think I went back and bought 7 in the fall scents all together. Oops.
2. Suave Professionals Keratin Infusion Dry Shampoo
I've repurchased this a couple times in the past just because of the accessibility and price. You can get it at Walmart for about 2 bucks. But, honestly it's not the best. It will freshen your 'do but then in about an hour it feels gross; almost worse than if you hadn't used any. But after tracking down Batiste dry shampoo, I don't think I'll be looking back.
3. L'oreal EverCreme Sulfate-free Cleansing Conditioner
Love this! I've recently got my hair used to not being washed as much (it was a intense battle; comment if you'd like a post) and this is perfect! It's exactly what it says it is. It cleanses without stripping, drying, or damaging. My hair is healthier than it has been in years. I've never tried Wen before but I think this would serve as a good drugstore dupe.
4. John Frieda Sheer Blonde Go Blonder Lightening Spray
I ombre'd my hair at the beginning of the summer and picked this up to help the blonde tips stay true. I didn't see drastic results -don't expect to change light brown hair to platinum with something like this- but I did see results. It made the blonde less brassy and brighter. Impressive.

5. Clinique Dramatically Different Moisturizing Lotion
This has been my holy grail moisturizer for years. I can never find anything to replace it. I've been using up all the sample-sizes I've accumulated as I wait for the release of the new + version that is to come out!
6. E.l.f. Zit Zapper
Great acne treatment that I reviewed in my
Top Ten Elf Products
post.
7. Maybelline Master Precise Eyeliner in black
I adored the felt tip on this baby. Super skinny. When I purchased this, there weren't any applicator tips this precise in the drugstore. I really loved how sharp and thin I could get my liner. The only problem I had is that I found the formula to be drier, which can create longevity to the wear, but in this case it caused flaking on me.

8. Maybelline Dream Lumi Concealer in Radiant
I used this thing to death. I liked that the radiant was slightly pink and added a pretty highlighting effect. But the more consistently I used it underneath my eyes I found that it was a little to dry for that area everyday. Worked perfectly for the other planes of my face, though!

9. Jergen's Natural Glow Express for medium to tan skin tones
Finally used up what I had left of this; this has been my favorite self-tanner for a few years. It's quicker than the normal Natural Glow, but doesn't add as much color as most tanners do. I have yet to try the new version of this (it's called 3-day something) I will probably switch to it when the cooler months come and I don't need much bronzing.

Like Empties Posts?
Empties #1 June 2013
Empties #2 August 2013
Empties #3 September 2013
Empties#4 October 2013