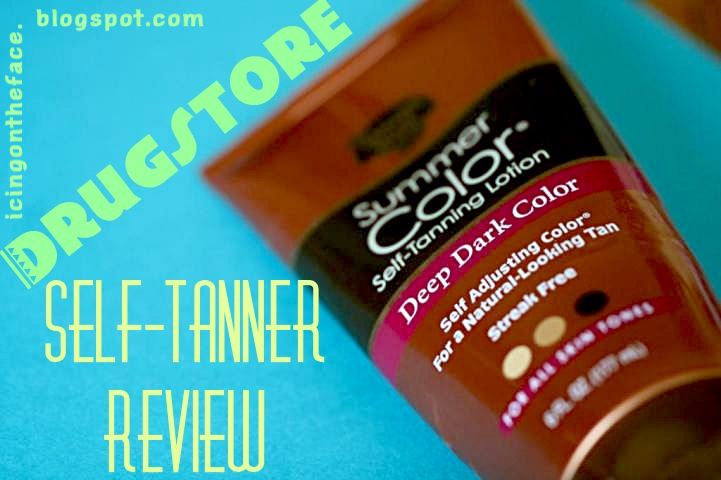 Let's just all be straight up - most of us have used self-tanners or do on a regular basis! I'll tell you right now that my golden, bronzey glow is 98% FAKE. (It's probably not that drastic, but I am still pretty pale during the summer because I don't find time to do a whole lot of outdoor summer fun things regularly!)
ONE, I don't want skin cancer and TWO: I don't have time for all the slathering things on, laying out for an hour every day all before showering. THREE: I don't wanna be blinding people with my legs when I do want to step outside.
Self-tanning is just the easiest solution. Let's not argue.
I first purchased Banana Boat's Summer Color Self-Tanning Lotion in Deep Dark Color because I had heard it was the best drugstore self-tanner. (I had been using Jergen's Express but the new 3-day thing made me want to try something else.) When I first used this, I was VERY upset. I like to think that I am pretty good at applying self-tanner. I exfoliate, moisturize, watch out for my knees and bends and elbows and all that, and I rub it in REAL good. So why this self-tanner turned out streaky, patchy, and orangey was beyond me. I had a wedding coming up that I was going to be photographing and was not about to wear pants to an outdoor wedding in June. No stinkin' way. I could either take a chance and spend more money on something else that may fail me, or just work with it. So I tried it out again.
I discovered I was just TOO GOOD at applying self-tanner. Yeah, you heard me, too good. Banana Boat Summer Color has a formula that is used to taking care of itself; it doesn't want you doing all the work! (My boyfriend should take notes!) I over-blended the lotion until the color guide balled up on my skin. Now that I've figured out how it works, I love it!
Here's what I do:
1. Exfoliate - use a scrubbie sponge, exfoliating body wash, sugar scrub, whatever you want.
2. Get the shaving out of the way - don't think oh, I'll just shave tomorrow after I put it on... just save product and time and do it before!
3. Apply a lotion or barrier to dry areas (your knees, elbows, wrists, knuckles, bends of your legs and arms, all those places).
4. Smooth it on quickly and evenly. Don't worry about blending the heck out of it for 10 minutes, as I usually do with self-tanners. If the color guide looks good, you're good! (the color that shows when you put it on)
5. Wash your hands (if you're not using a mit or something else) after every section. Finish your legs - wash 'em! Finish your arms - wash 'em!
6. Let it dry - I usually apply this right after getting out of the shower and let it set while I dry my hair and put make up on. While it is not the fastest at drying, it is completely dry within an hour. But you are fine to put clothes on after 10-15 minutes.
7. Keep up with it - I apply about twice a week. But if you don't want to keep applying make sure you use some exfoliation to keep the patchiness away as it fades. I've found it fades rather nicely, but not if you find yourself with dry skin.
Banana Boat Summer Color claims that it is a self adjusting color for a natural-looking and streak free tan. I definitely agree with this since I don't have to blend the crap out of this product, it makes for an extremely quick application. (No more setting aside special time just to make sure my self-tanner gets put on correctly.) It creates a very bronzed and brown color when you use it right and works with my skin tone (cool and neutral undertones; also have heard it works well for warm undertones.) It also leaves my skin feeling smooth and supple; beyond just hydration (It has a lot of good things for your skin it). Made self-tanning affordable AND easy!
Just Remember!
If the color guide looks good, you're good!!!