On Wednesday I brought you fall's upcoming make up trends, today I've got hair and nail trends for you. At first glance I didn't think these trends were all that exciting, but when paired with the neutral make up looks and earthy color palette I'm excited for what it creates. Neutral. Earthy. Natural (with some glam elements added in).
Nail trends have been easy to spot on the runway - NUDE has been the big thing seen paired with almost all designers. Army green and adding matte texture to the normal dark hues of fall have been the other two big trends. I think this is going to help push me away from the crazy amounts of glitter polish I have been attached to for the past few seasons. More earth tones and looks are in now!
For hair, I think I'm loving the "deconstructed bun" look the most. It's not just a normal messy bun that has been gracing the runways - it's this piece-y tangle of knots and twists that looks really pretty!
Here's What Hair and Nail Trends Everyone's Noticing for Fall 2013: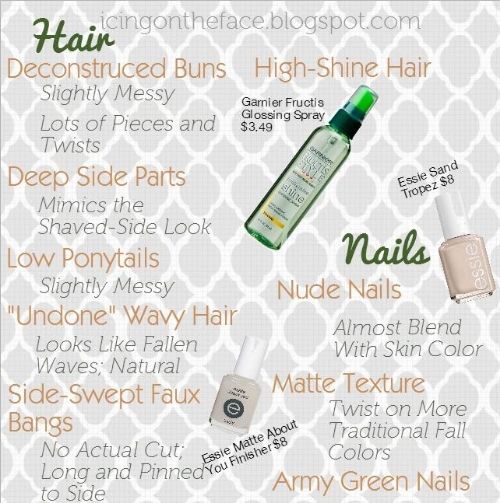 Are you guys ready for fall yet?!