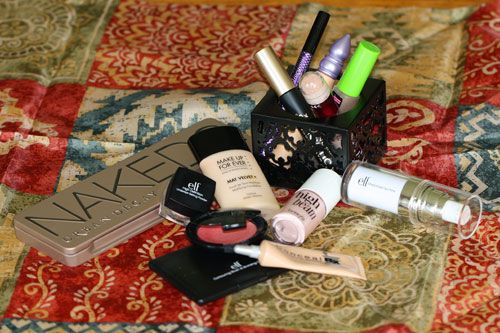 Here's a tag that I think is such a magnificent idea--but dang I was
instantly
, almost gut-
renchingly,
afraid to do it. I don't want to think about how much I actually spend on the products I use
everyday
.
But then I thought about it some more . . .
We'll see how this goes:
These are products I use for a weekend day when I have a lot to do - I want a full face to last for day and night but nothing crazy.
1. E.l.f. Studio Mineral Infused Face Primer
$6.00
2. Make Up For Ever Matte Velvet +
$36.00
3. Maybelline Instant Age Rewind Dark Circle Eraser
$7.99
4. Physician's Formula Conceal Rx
$8.99
5. E.l.f. Studio Contouring Blush and Bronzing Cream
$3.00
6. Benefit High Beam
$26.00
7. Philosophy

Cream Blush Lit From Within
$14.00
8. E.l.f. Studio High Definition Undereye Setting Powder
$3.00
9. Maybelline Dream Matte Powder
$6.94
10.

Urban Decay Eyeshadow Primer Potion in Eden
$18.00
11. Urban Decay Naked Palette
$50.00
12. Hard Candy Stroke of Gorgeous Purple Felt Tip Eyeliner
$5.00
13. L'oreal Voluminous Carbon Black Mascara
$8.49
14. Maybelline Great Lash clear Mascara (for brows)
$4.44
My Face is Worth:
$197.85
Well, I've definitely seen worse; a lot worse. A lot of bloggers seem to have faces worth upwards of $300. But geez, it just seems like a lot! Two-HUNDRED dollars in everyday makeup and you know that's just the tip of the iceberg. Maybe I need to rethink some things - but we all know I prolly won't!
So, how much is your face worth?